Since leather is a natural material and each hide is unique, these dimensions represent average hide sizes and shapes. If specific cut sizes are required, please call Customer Service.
The industry-wide formula for converting fabric yardage to leather square footage is one linear yard of 54" wide fabric equals 18 square feet of leather, based on hides averaging 50 to 55 s.f. Due to the irregular shape of the hides, there will always be a certain amount of waste; this formula takes waste into account.
When using hides smaller than 50 s.f., the manufacturer should be consulted to determine whether more leather is required due to decreased yield from smaller hides and/or whetherseams will be necessary to upholster the piece.
Chaps
Average Size: 15-18 s.f.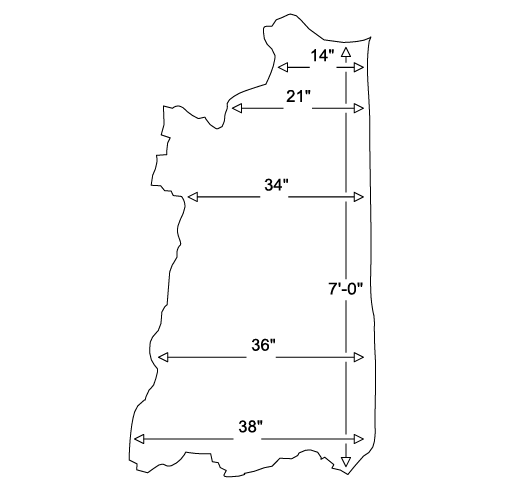 Cavallo (whole hide available in select colors),
Cortina Emboss, Flamingo, Zigrino
Average Size: 25 s.f.
CALCULATING LEATHER REQUIREMENTS
By industry standards, one running yard of fabric = 18 s.f. of leather. Although there are actually 13.5 s.f. in a running yard that is 54" wide, the additional 4.5 s.f. in the formula accounts for the waste factor, since hides are irregularly shaped. The term "usable square feet" already takes into account the waste factor, so that it is unnecessary to add to the amount required.
The following example demonstrates why six (6) 24" x 24" seat cushions require 54 s.f. of leather rather than 24 s.f. ( 6 cushions x 4 s.f.).
6 Chair Seats, 24" x 24", each requiring 1/2 yard of fabric
2 chairs per yard of fabric
Total: 3 yards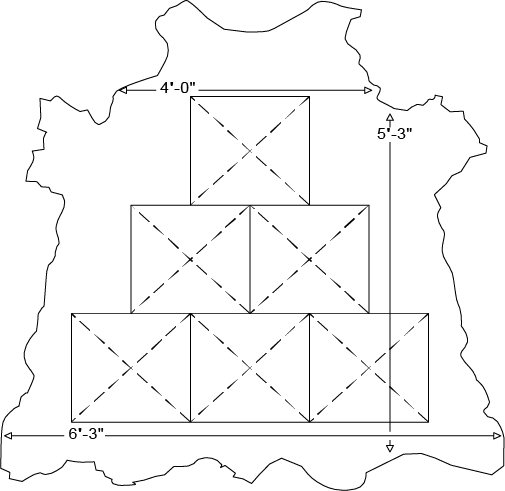 18 s.f. per yard of fabric
3 yards x 18 = 54 s.f.